---
As a supplement to the archiving function, a new, easy to use module was created for the area of ​​document management in order to transfer external documents to tacoss.eTRADE and manage the documents in the application.
The extremely simple and convenient assignment of external documents to program windows is done by dragging and dropping the documents on the respective target windows.
The scanned documents are stored in the database. The advantage lies in the independence of the file access. The documents can be reproduced and used at any time, even if the original files should no longer exist.

Usable file types
---
PDF
Images
Mails
Text documents
Spreadsheets
Presentations etc.

Possible data sources
---
Internal print and archive windows
External tacoss.eTRADE sessions
File Explorer
Microsoft® exchange®
Outlook
RMI Transfer Server
Example: Drag & Drop from a window within tacoss.eTRADE
Wherever documents, evaluations, PDF documents or images are displayed within tacoss.eTRADE, they can also be touched and held down by pressing and holding the left mouse button and dragged to other locations. This opportunity for user interaction includes the print displays, personal print archive, the archives, the inbox, and PDF and image displays.
For example, if you click on a page in a print display with a mouse button and move the mouse while holding down the mouse button, a small PDF icon appears next to the mouse pointer. The mouse pointer itself indicates whether the retained print slip can be dropped or not.
Objects that are dragged can be dropped both on main and container windows (customer, order, contract, etc.) as well as in other tacoss.eTRADE sessions as well as in the Windows File Explorer or in Microsoft® Exchange® resp Outlook®. In main and container windows, the objects are automatically assigned as another external document and stored in the database. In the Windows File Explorer or a mail window, print documents are automatically saved as a PDF file and images as a corresponding image file (* .gif, * .jpg or * .png) with a system-generated file name.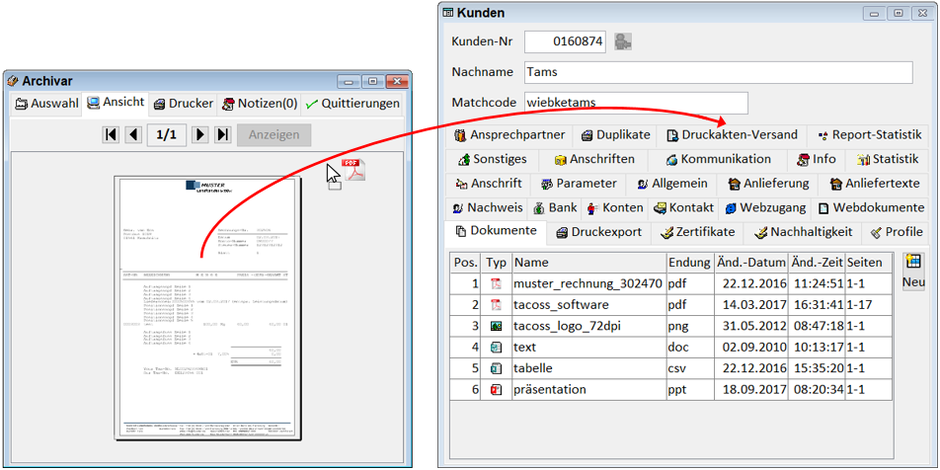 ---
Example: Drag & drop a document from the desktop into the tacoss.eTRADE application