---
Customer satisfaction is critical to business success. It is not only an important differentiator that helps you attract new customers in a competitive market environment. Customer satisfaction is also a leading indicator for measuring customer loyalty, identifying dissatisfied customers, reducing fluctuation and increasing turnover.
Complaints will occur despite your best efforts. This may not seem good at first, but as long as the customer is complaining, you have the opportunity to respond and learn from it.
By handling the complaint respectfully, you have the opportunity to bind your customer even closer to you. Take the time to listen to your customer, show empathy and apologise.
Most of the time, your customer is not interested in hearing a justification, but rather in receiving a suggested solution to the problem. Whatever you promise your customer, try to keep it.
First of all, however, the most important information must be recorded. Who are you talking to, what is the complaint about, when and through which communication channel did you receive the complaint? Is this the first complaint?
2. Dealing with the complaint

Find out why the complaint came about. Does the product or service differ? Is there really a defect? Use the functionalities within tacoss.eTRADE by assigning the complaint, including all information, to the responsible employee. For the most effective processing of the complaint, employees can create tasks and set deadlines for them.
Deadlines help you to get back in touch with your customer in time. You can be generous if customers are very upset. The more individual you are with your customer, the greater the chance of making amends. Not all wishes can be fulfilled, and you should communicate this professionally.
Use the complaints tool in tacoss.eTRADE to improve your customer service in the long term. The efficient processing, structured procedure and cross-user transparency bring you many advantages. Evaluation options help you to answer important questions. What costs were caused by the complaint? Is there a need for action?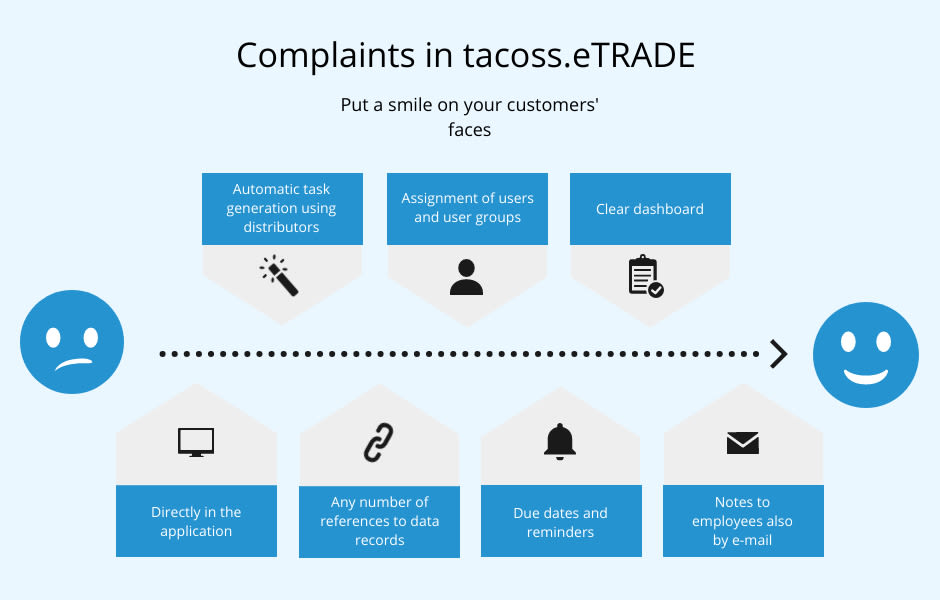 Would you like to learn more?
---