---
The advantages of electronic signatures are significant, especially for companies with complex responsibilities and high document traffic.
You improve your throughput times by simplifying the document flow and reduce your paper consumption. The acquired biometric data enable automated authenticity testing and thus high security.
The prerequisite for a smooth process is the integration of the signed electronic document into the workflow of your company. The module tacoss.eTRADE offers the possibility to digitally sign documents in various program areas.
The process of recording the signature while using the direct print functionality is part of the printing process and is called automatically, if the required settings are available.
The settings can be made for various types of forms:
Order forms
Contract forms
Checkout forms
Transport forms
Weighing forms
Detailed monitoring and control
---
In order to monitor the progress of capturing the signature and to be able to intervene in the normally automatically running process, a dialog window opens at the beginning of the acquisition.
If no signature objects to be signed are defined for the form, the document is printed directly.

Sometimes an intervention of your user during the process is necessary. Different actions are available, which allow an exact monitoring and control of the signature devices for you.

Flexible device connectivity
---
The available signature pads or devices used for signing can be connected either locally within the collection warehouse or via a USB port.
When it comes to determining signature pads or devices all devices whose computer name corresponds to the currently logged-in tacoss.eTRADE computer are considered.
Sample layout
---
This display shows a complete document on the signature device "Signotec ALPHA".
The signature field is "extracted", so the signer has more space. The original signature object is grayed out.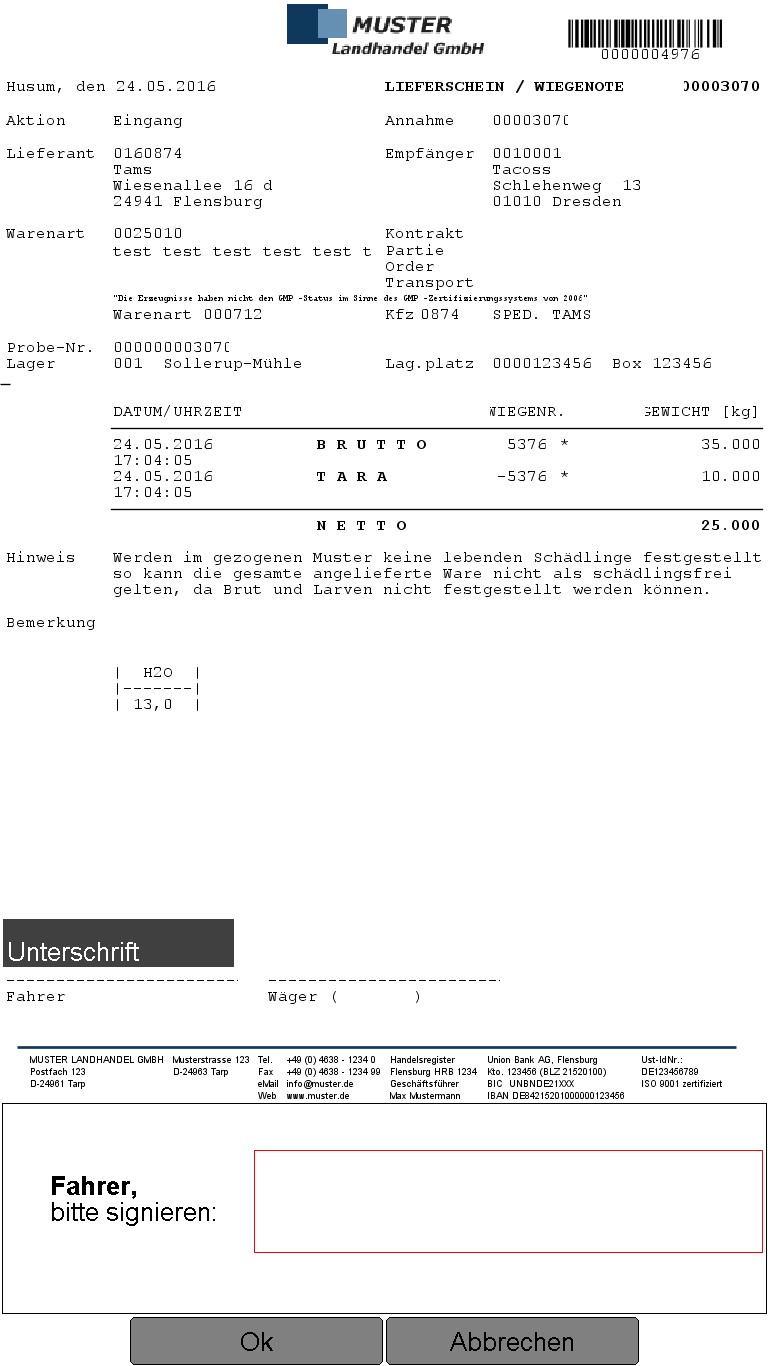 Simplifying document management
---
Error messages and indications will guide you through the process of capturing the signature. If everything is set correctly, your business partner signs on the signature pad and receives a paper receipt as usual, while your digital document is created and filed with all biometric characteristics of the signature.
The electronic document can then be archived centrally in the database. Access to the electronic, signed document is easy, fast and secure at any time.
Another electronic process that saves resources, time and costs.